we did this thread on another forum... so finally, here's mine. it's grey/raining outside, so i borrowed my daughter's thingy rug to make some colorful shots...
i've divided them into small groups as follows:
the basses:
'71 fender musicmaster bass, 70s gibson EB-4L, '63 Fender VI, 70s Ibanez 2350B les paul bass, '79 Fender Precision Bass.
p-bass on the floor sold on ebay, leaves tomorrow. a '69 EB-3 arrives tomorrow... :ph34r:
the projects: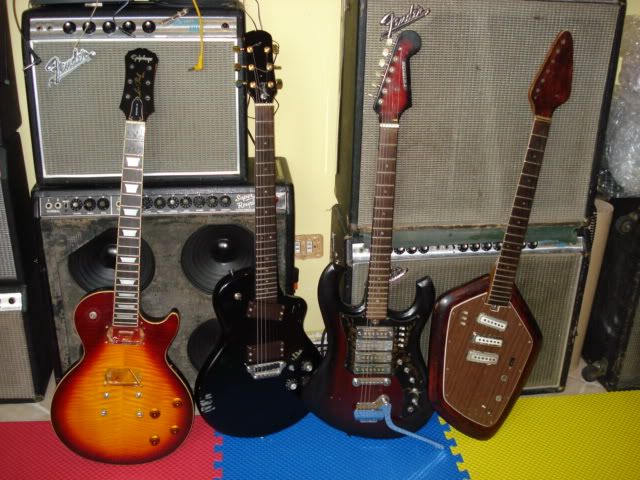 '92 Epiphone Les Paul Std. (my 1st guitar!!!), '72 Yamaha SG-40, 60s Teisco, 70s? Teisco EV-3T
the japs: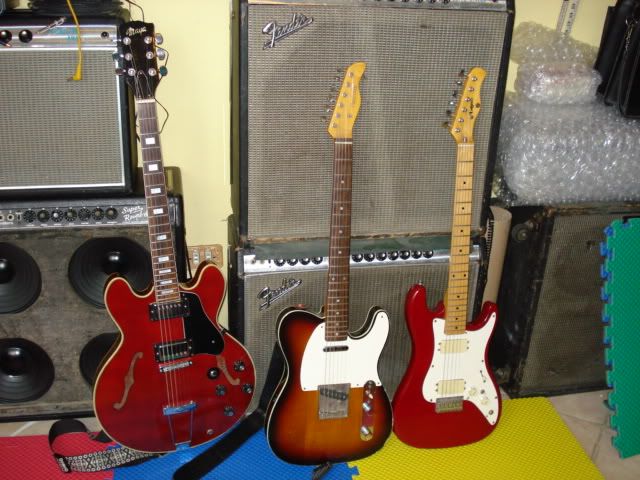 70s Maya ES-325? copy, 80s Fernandes Tele copy, 80s Lotus Bullet H2 copy
the sg's: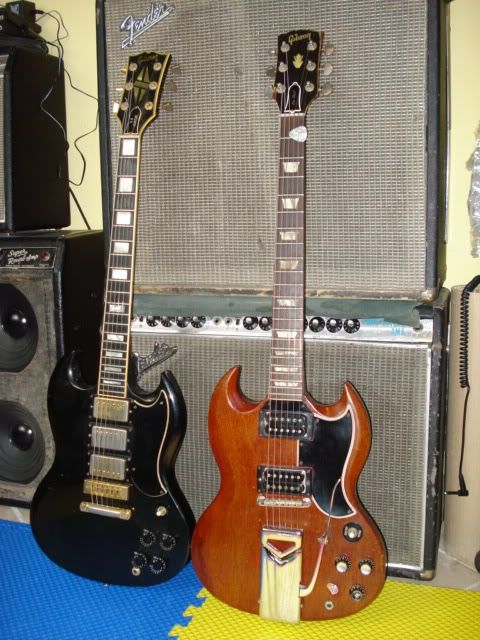 '74? Gibson SG Custom, '63 SG Std.
the strats: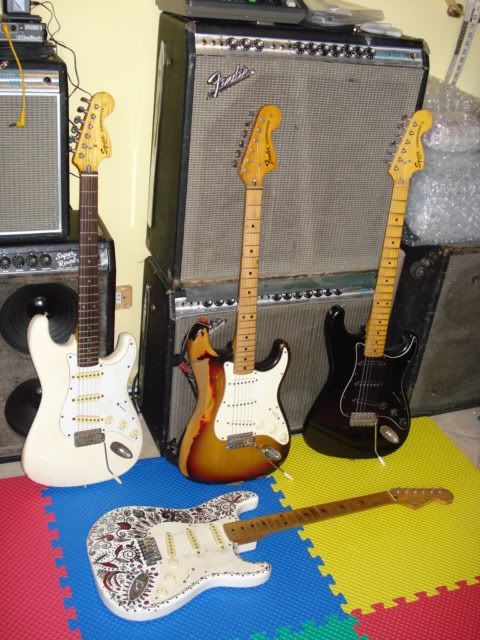 '83 Squier SQ, ~'71 Strat, '83 Squier SQ and 90s MIJ Squier Strat on the floor (painted by me wifey)
jazzies: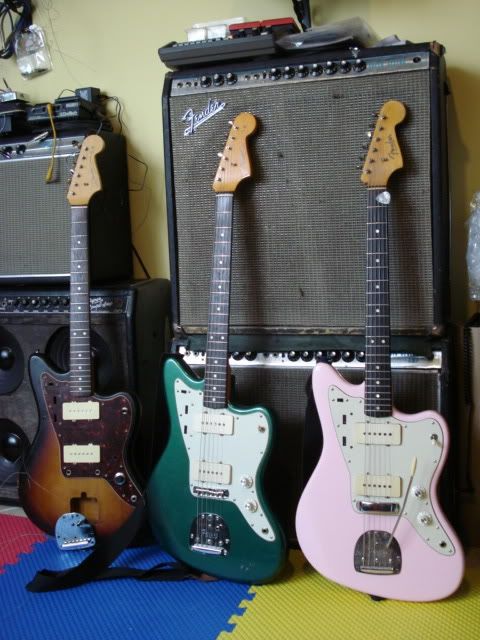 '97 CIJ, '0? AVRI, '65 USA
the wide-rangers: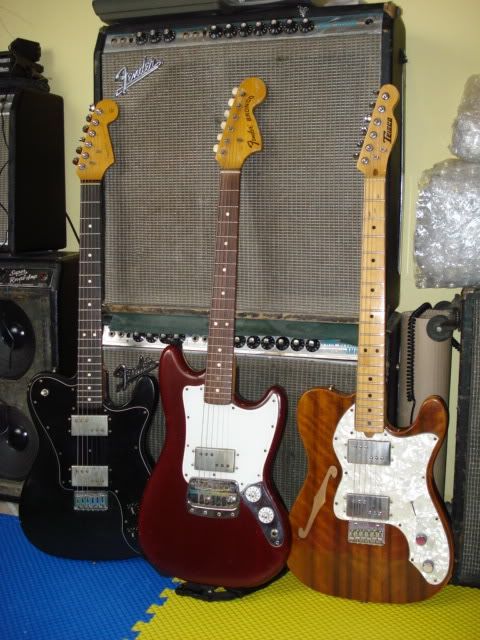 '78 Fender Tele Deluxe w/AVRI neck mod (now on ebay...), mid-70s BroncoBlaster, 70s? Teisco Tele Thinline copy
the shorties: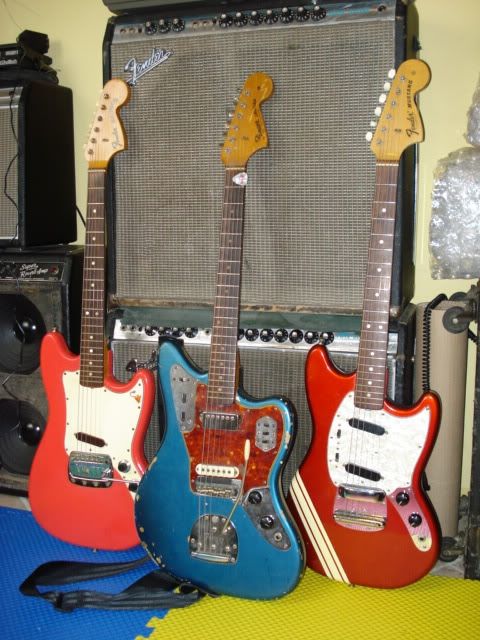 '67 Bronco, '65 "teh crackwhore" Jag w/ Höfner pup in neck, '74 red competition Mustang
the misc: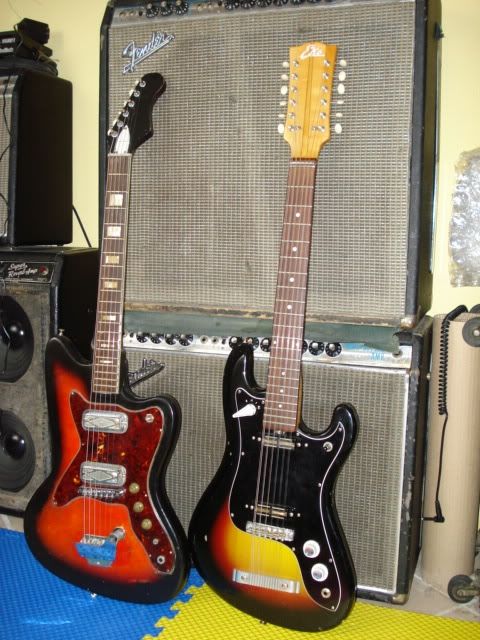 '60s? Harmony Silhouette, 60s Eko Cobra XII
the acoustic: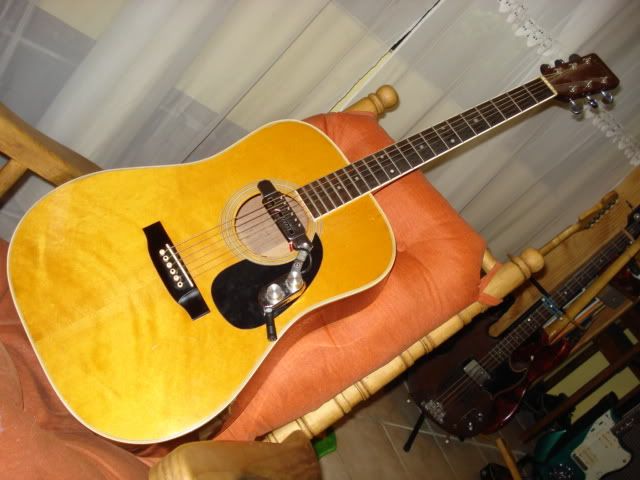 80s Takamine Martin copy
...you like?
NOW LET'S SEE YOURS!!!
Pat.
ps: geez i just realized that's a SICK 30 guitars!!! now all i wish i had was some darn TALENT!!!