Well, it's taken a few years, but my old school pedal board is complete (complete, that is, with the pedals I thought just had to be there and which I use all the time). Thus, ego sum in pace. Well, for the most part, anyway. It includes:
Univibe
Fuzz Faces. On the board at the moment is a Dallas Arbiter silicone from '69, leaning on the board is an Arbiter, 275 Germanium. From '66 I think.
TS808. The one on the board has the JRC chip, the one leaning against the board has the RC chip
"80 something AD9 Delay
Dynacomp Script logo compressor
And, finally, as of today, Clyde script Wah. Behind the board is a '68 Thomas Organ, Italian wah with trash can. Been using that one for years. By the by, if anyone's interested, I'll likely be selling it off soon, now that the Clyde has arrived.
Well, there it is. Took a lot of questing, so I couldn't resist the impulse to post the finished product.
[URL=http://s118.photobucket.com/user/steveokla/media/IMG_00981_zpsgahiwncs.jpg.html]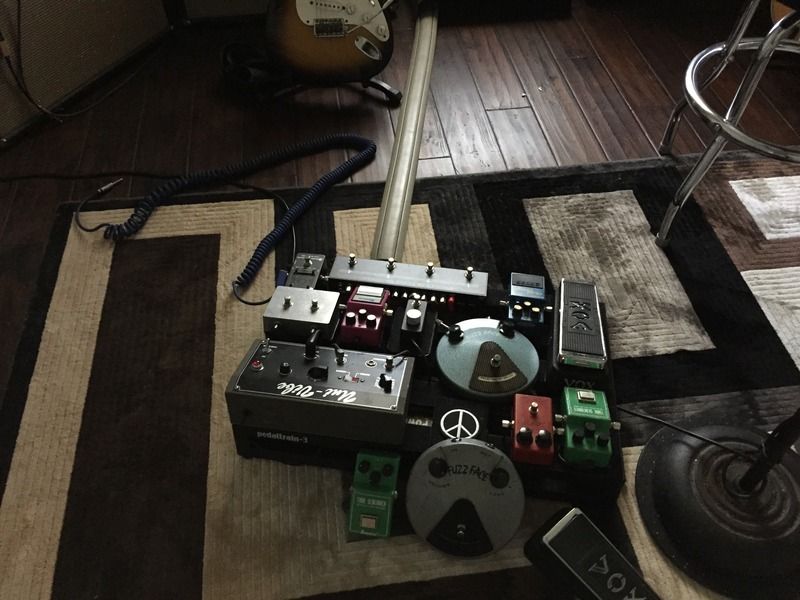 [/URL