Ok, I have tinkered with tube amps and have a decent understanding of them for a novice (thanks to this forum along the way), but this amp build is about to drive me up the wall.
The Problem:
There is a considerable amount of hum early and the amp seems to jump up in volume way too fast then goes into an almost clipping sound at about 4 on either volume. The tone control affects the pitch of the popping and turning either volume effects the frequency of the popping. With each pop v4 shows a small blue flash towards the base of the tube. If i pull v2 the popping stops, if i pull v1 the popping frequency speeds up and goes up in pitch. Ive swapped the power tubes back and forth and it still flashes on v4.
Info: Mojotone 5e3 kit with multi-impedance OT and selector switch added.
I have checked and double checked my wiring and compared it to several different diagrams to make sure there were no errors from Mojotone. Everything seems to check out, but a second set of eyes never hurts.
I have moved grounding wires multiple different places and it has had no effect on my problem so ignore all the stray looking wires, as I am at my wits end trying to figure this out and am basically moving stuff around hoping to hit the magic combo.
One thing i am concerned about is the wiring of the OT as it is hard to find good info on a 5e3 with the selector but here is a link to the OT in question
http://www.mojotone.com/transformers/Fender/Output/MT-FENDER-MOJO768sp.pdf
. Should i have a ground wire the the output jacks?
here is a link to some of the build pics as it sits. Again ignore the untidiness i have been trying a lot of different stuff.
http://s79.photobucket.com/user/twiceta ... e3%20Build
Here is a pic to show how i currently have the grounding. the earth from the 3 prong and the red/yellow are on one bolt of the PT, the B+ ground and artificial CT go to another bolt on the PT.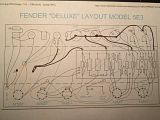 Thanks for any help in advance and for taking the time to read my troubles. I hope it is something simple I am over looking.